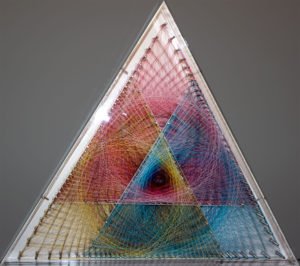 Coming from the design of Prince's Star, also a transparent design viewable from front and back.  It continued as an exploration of differing thread patterns, and an obviously differing palette.  The colors cycle from light to dark and back to light again showing a distinct change from the outer corners to the central triangle.  I love the circle formed.
Displayed in the Round Rock Arts Center's Fall Photography and Sculpture Show.
Triangle, 24″ on a side, 2″ deep.  Price $1000 – The best option for purchase is to contact me directly here.