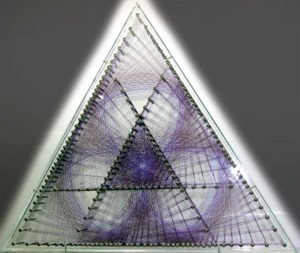 An intricate and complex piece, it surprised me greatly as it did not appear in many ways, as it was planed.  Begun at the time of Prince's death, it was continued in purple within a transparent frame in honor of his humility and generosity. In the design, at the bottom layer there formed a distinct star. But a capricious mistake gave rise to my next project, Encouragement. Funny how those things go.
Entered into the Round Rock Arts Center's Fall Photography and Sculpture Show and won 3rd Prize.
Triangle, 24″ on a side, 2″ deep.  Price $1000 – The best option for purchase is to contact me directly here.