I often tell people that I truly do not know what my constructions are going to look like until they are done. Though I am not a painter, I imagine that an artist in chalk, watercolorsoil, etc. can, as they work on a piece, change things as they go, change the expression of a face, the placement of a line or figure. That is not the case with my work. I may think I know what it will be when I begin the design, I may aim towards a particular effect, but as I lay down the threads, it is a continuing time of discovery. Admittedly, it can also be a time of disappointment.
For instance, in The Rose I imagined the lighter centers of each petal to be closer to the center circle. But I did not know that until the placement of the supporting screws was decided, the backing was drilled, crews placed and painted and I had already completed several layers of thread. If I am commissioned to do it again, I will certainly discuss a redesign.
How the colors will play out, how each layering and their proximity will affect the perceived color is always a surprise. But my continued amazement comes from the curves and three dimensional forms that appear from a simple layering of straight lines. There are no curves in my art, yet the eye creates them. The mind creates the patterns. That process is often one I can not anticipate.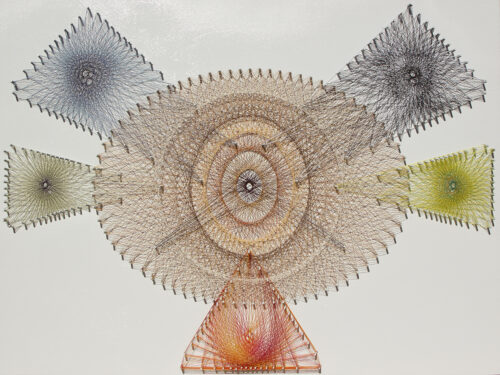 In the first post when I redesigned my website, I included several photos constructing my latest work, Aggravation.  The name should convey some of the emotional attitude of the process.  It took longer than I expected.  But the finished project is very compelling to me.
In the blue area the lines form a rounded triangular pyramid going from light to a darker blue. But the red area is the one that has inspired me. It is actually two constructions of seven threads, each one uses only two sides of the triangle. On one side, the progression of colors goes from dark red to orange, on the other, it is reversed. But the most interesting thing to me is the shape it creates, almost a teardrop in reverse. This is, unfortunately, very hard to see in a two dimensional photograph.
The process can be a frustrating one. I suppose I should post once on the frustration of knotsmissing a the right screwfinding an error in a layer you have completeddropping the spool and trying to undo the tangle that results while half way through a layer. Dental tools are useful for that.
But my joy comes from the visual surprises and discovery that ensues. Hopefully each project will give me inspiration anew.
RSM