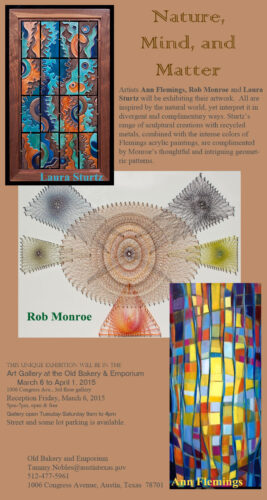 As March will be such an exciting month, I wanted to pass on some information here.  There will be a big show at the Old Bakery and Emporium through the month.  I will have over 20 pieces on display.  The reception is Friday, March 6th, 5-7PM.
But that is not all.  I also have two pieces at the Riverbend Church and two more have been accepted at the Round Rock Arts IMAGINE Show with a reception on Saturday, February 28th, 7-9:30.
I am proud to say that "Level 13" received an Honorary Mention (ahem, with an accompanying $75, Thank you) at the Round Rock Arts IMAGINE Show last night.  I also finished my most demanding work, Cornering the Gold Market
So North, Central and  South Austin, my art is on display.  All this through South by Southwest.  It is an exciting time in Austin.  Come and visit.